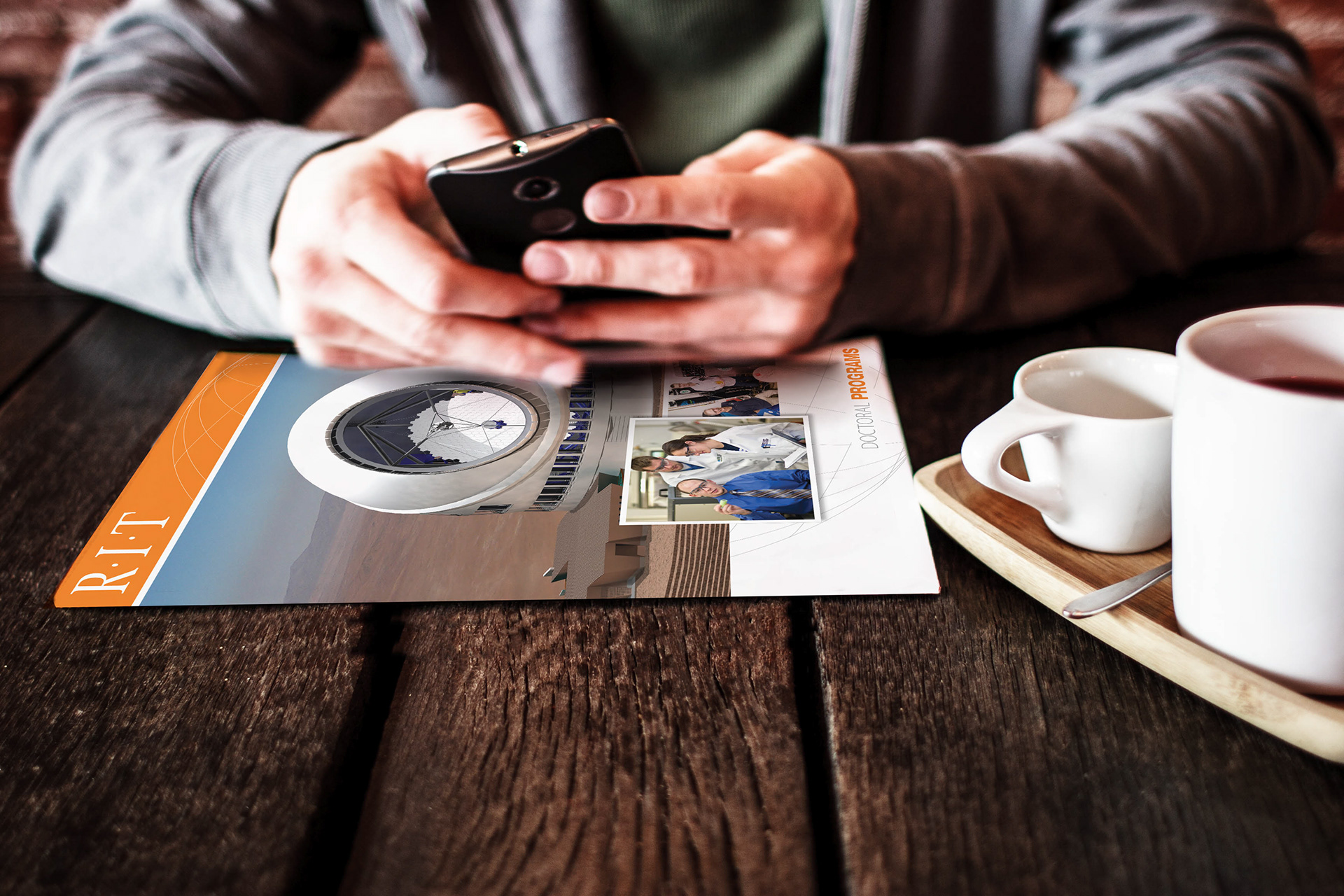 While working as the Senior Graphic Designer at RIT, I've had the opportunity to work on various marketing pieces for the university, its colleges, and NTID (National Technical Institute for the Deaf). Depending on the scope of the project, my role encompassed art direction of design and photography, illustration, project planning, and working with print vendors. These are a few samples of projects I've worked on.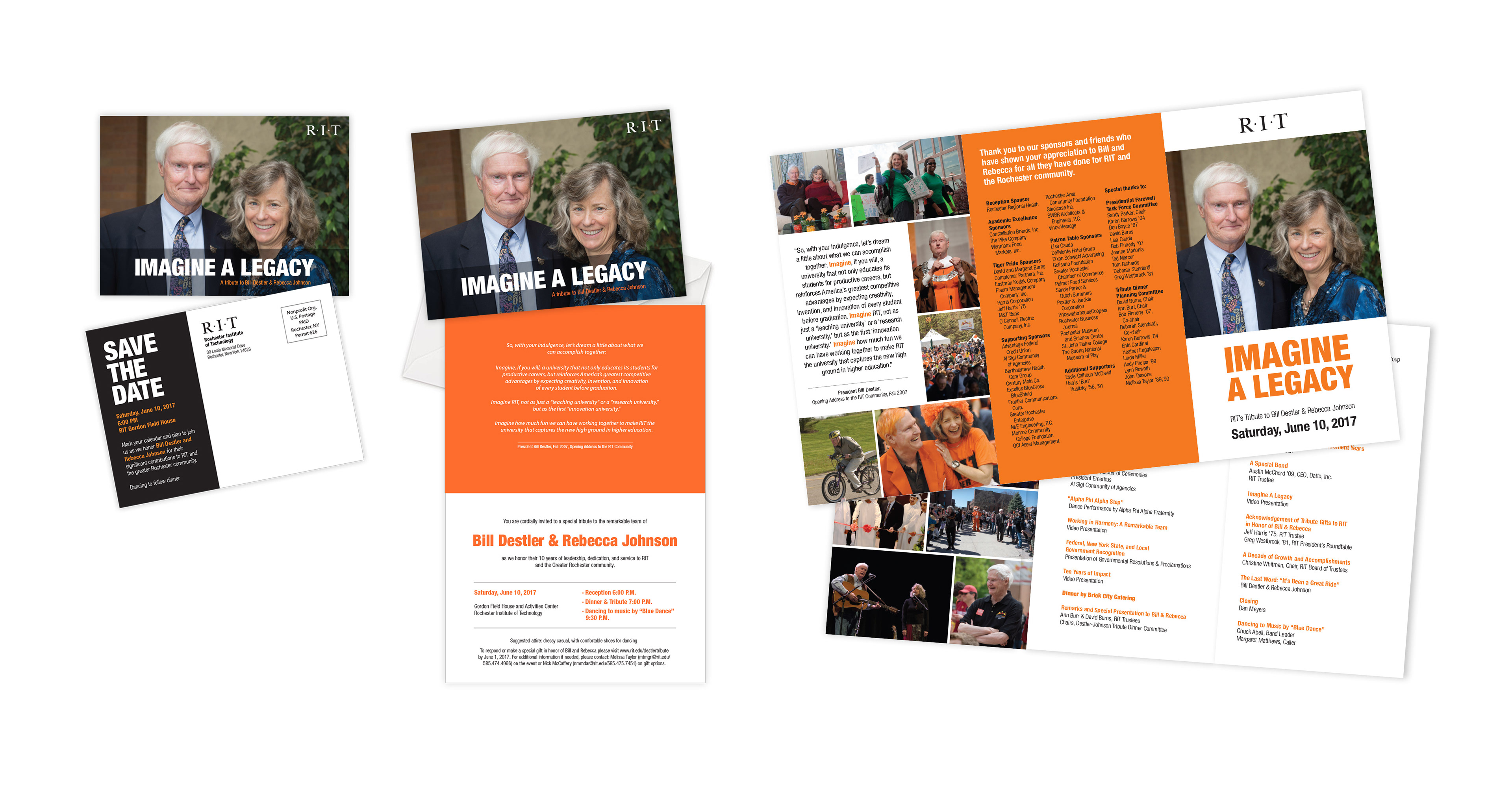 Destler retirement suite

The Destler retirement suite project included the art direction and creation of a print suite for the retirement of RIT president Bill Destler. Print pieces included a save the date, invitation, and event program. The visual direction was meant to showcase and celebrate Destler's years of service to the RIT community, while adhering to the RIT visual style and colors. An accompanying illustration of banjos was created to be used in elements at the event (since Dr. Destler plays banjo!).
Photoshop, Illustrator, InDesign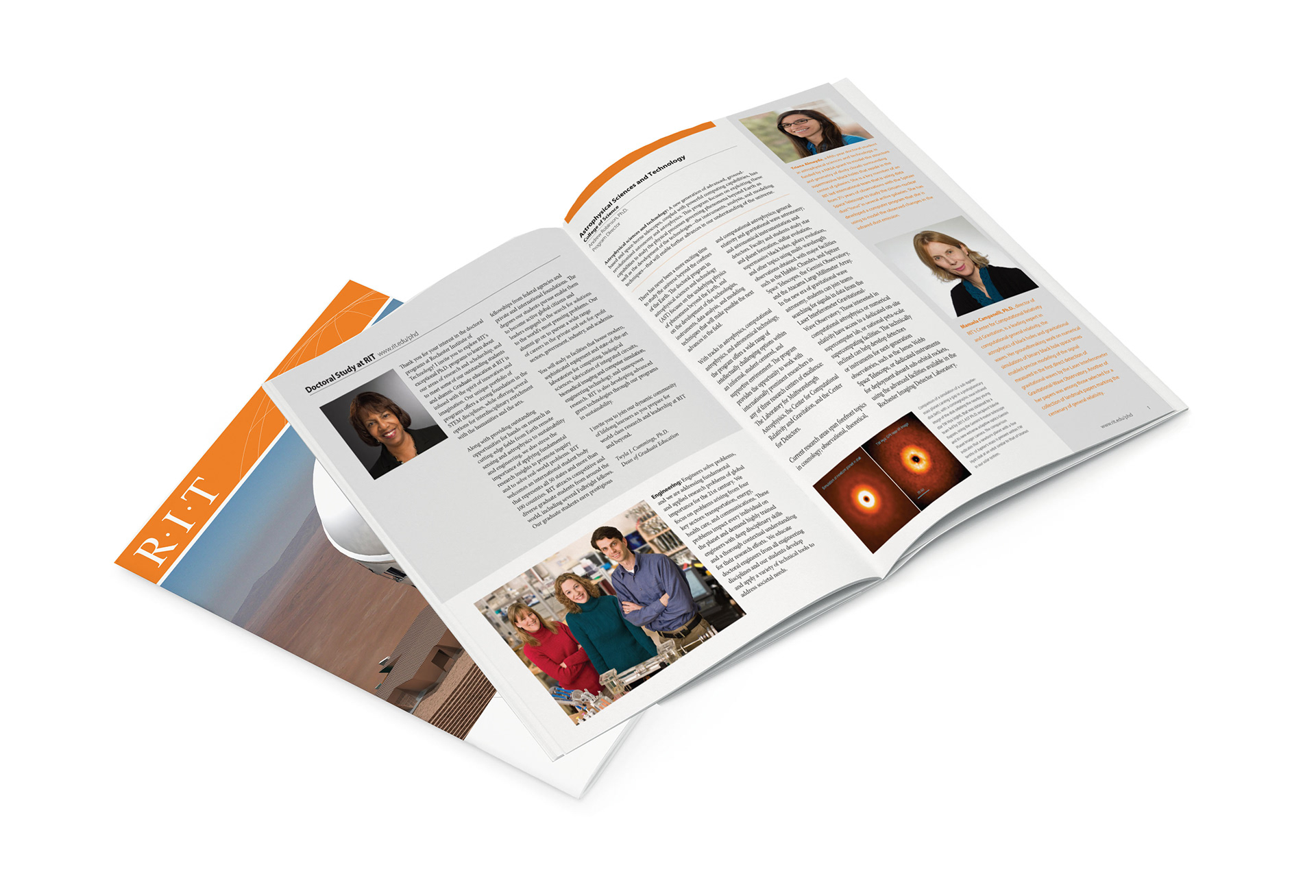 Doctoral programs booklet
RIT manages booklets and viewbooks for all of its colleges and many of their programs. This booklet is an example of one that underwent a redesign. Art directing the redesign meant managing content, selecting and adjusting photos, and working with the colleges to create a design that communicated what they needed to include, but that also fit in the RIT brand style.

InDesign
Nanoimaging lab postcard
Like the viewbooks and booklets, our department also works with departments to create pieces showcasing their new technology. This is an example of a postcard (though we create brochures, flyers, etc. as well), for new equipment in a lab and the images it can output.
InDesign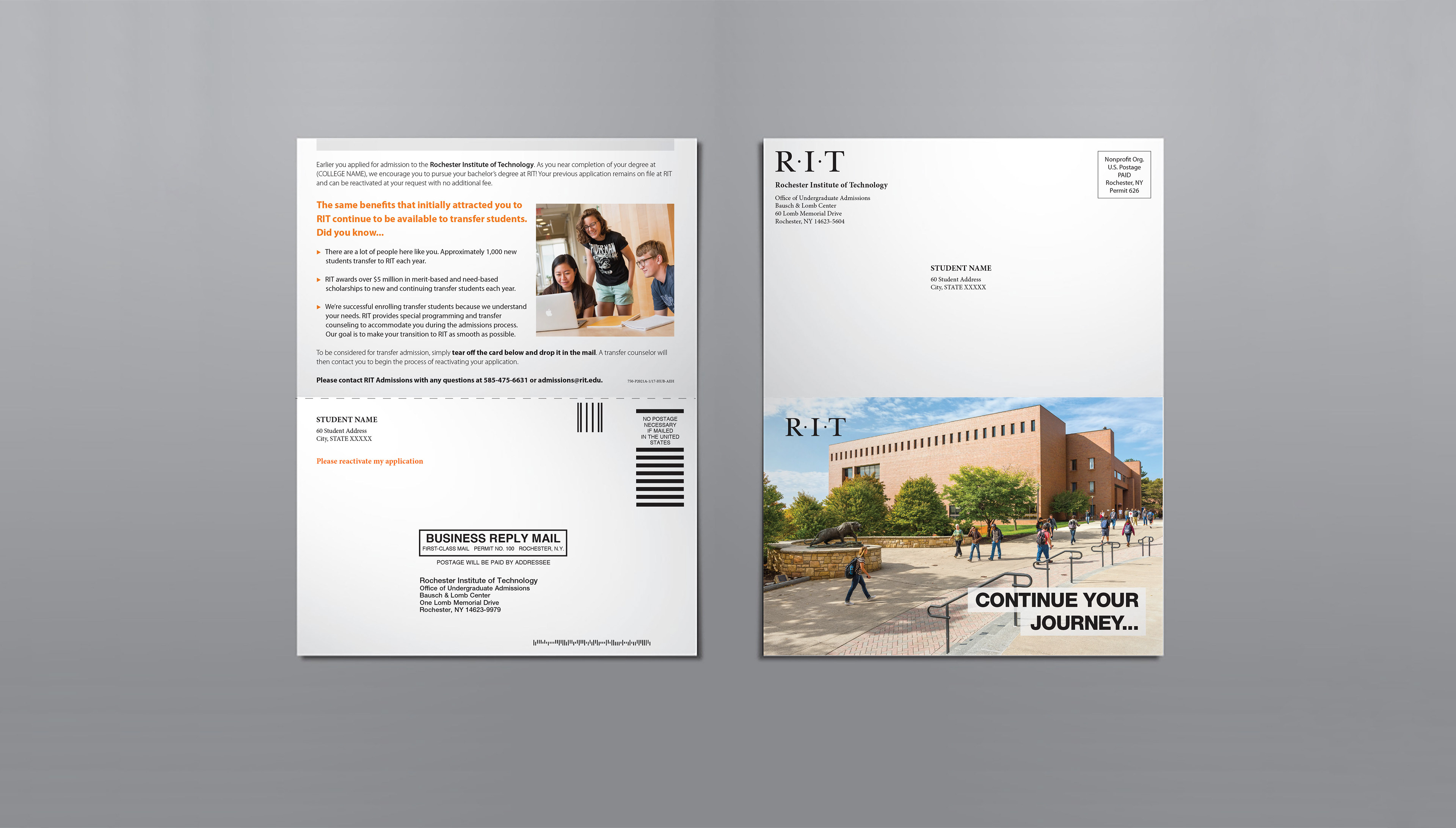 Admissions pieces
In addition to working with the colleges, the M&C department also works with admissions on pieces send to potential students. This is an example of one of those pieces art directed and created by us. 
InDesign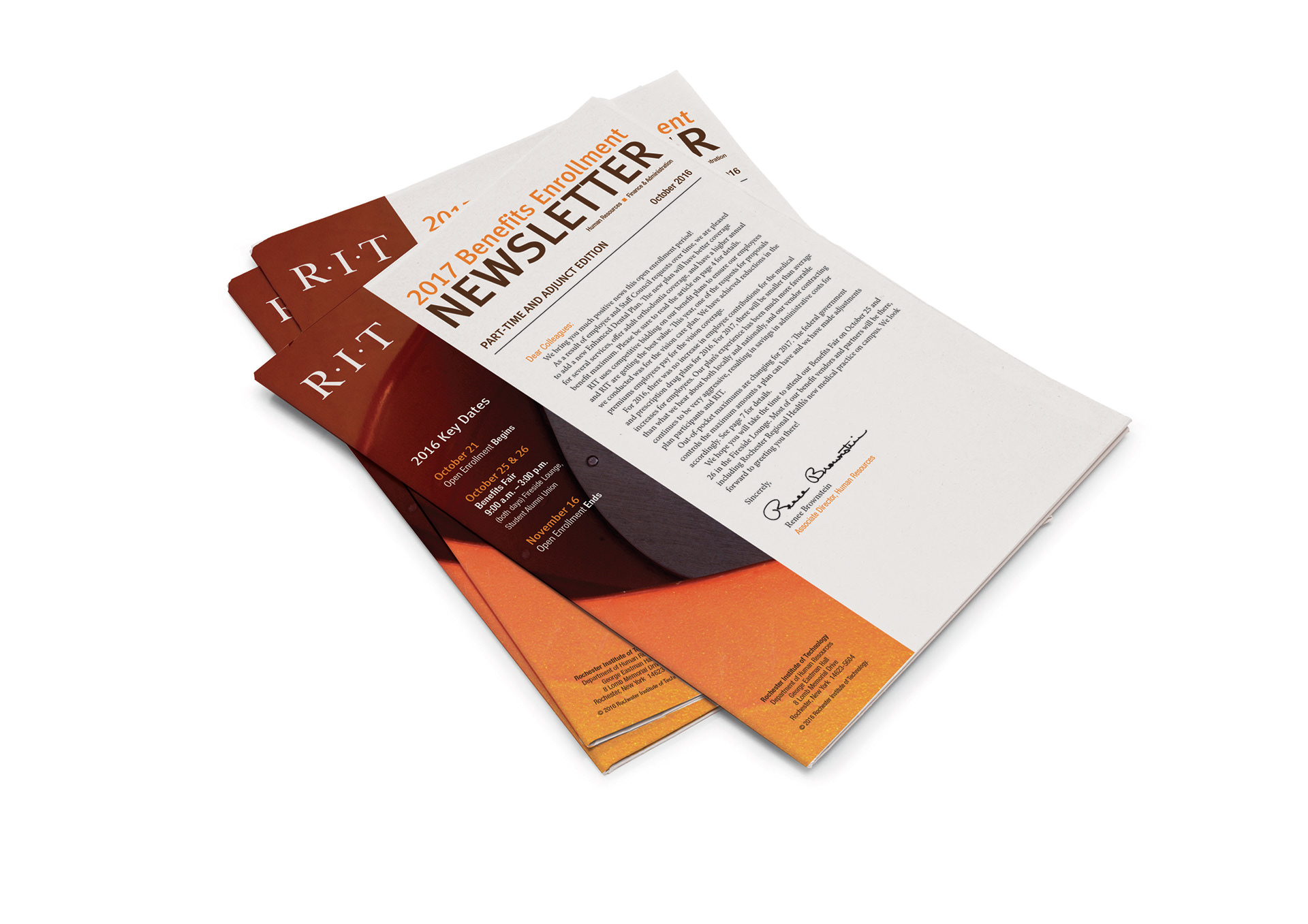 Internal print pieces
This newsletter is an example of the internal design work created for employees. A lot of internal design work can be content-heavy pieces with limited space, however, there can be a lot said for how akin to Tetris these kinds of projects can feel!
InDesign